R.M.S. 'CILICIA"/GDGL leaving Birkenhead.........Ray Simes Collection
Following this pictorial presentation Neil Cowan describes his first trip as a cadet aboard Anchor Line's "EGIDIA" in 1959.
Courtesy Glasgow University Archives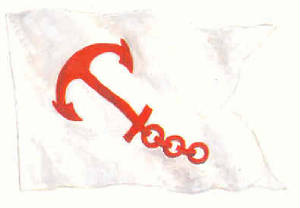 BRONZY TIME - ADEN TO KARACHI ETC.
R.M.S. CALEDONIA/GCKR - Courtesy Paul Strathdee
On a winter's day at Yorkhill Quay in Glasgow the CALEDONIA sits forlornly awaiting her ultimate demise. The three sisters were very popular ships on the U.K. India/Pakistan run.
The author sailed as 2nd. Radio Officer 1960/61 aboard M.V. EUCADIA/GJZL under Captain R.H. Harris, Chief Officer Barclay and Chief Radio Officer Angus (Gus) McPhail.
1872. ANCHOR LINE OFFICES, 51 UNION STREET, GLASGOW
Anchor Line's TEMPEST was considered an 'iron ship' in her time and had a registered tonnage of 845. She was 214.2 feet long and 28.7 feet wide. She was built by Sandeman & McLaurin of Whiteinch, Glasgow and completed on March 31st 1855. The original aim of the company was to enter the Atlantic service with steamships and she was converted to steam in 1856.
Having arrived at Liverpool at the end of 1855, on her return from Bombay, the prabability is that she reached Glasgow some time in January, for by May she was being advertised as due to sail for New York early in July. Here for the first time the title of Anchor Line was used. It was not until 1863 that the title was used for the Meditarranean service. The announcement was headed : "ANCHOR LINE OF STEAM PACKET SHIPS SAILING REGULARLY BETWEEN GLASGOW AND NEW YORK". Two ships were shown, the TEMPEST and JOHN BELL.
The CITY OF ROME (1881) was originally owned by the Barrow Steamship Co. but transferred to Anchor Line service between 1883 and 1902. She was probably the most graceful steamship ever to cross the Atlantic.
Picture above taken in 1956 of the Anchor Line Head Office, 12-16. St. Vincent Place, Glasgow. The office was opened in 1907.
Advertisement reproduced from Herbert's Guide to London of 1873, courtesy Anchor Line Ltd.
Author's File - T.S.S. CAMERONIA/GDXS
Seen below after being renamed EMPIRE CLYDE in 1953, Anchor Line's 16,280 grt turbine steamer CAMERONIA was completed by Beardmore, Glasgow in 1921. She spent several periods as a troop transport: 1935-36, 1941-45 and 1947-48, being converted into an Infantry Landing Ship for the 1942 landings at Oran and Algiers. In the summer of 1948 CAMERONIA (II) was converted to being an emigrant ship by the British & Australian governments. She was finally broken up at Newport in 1957. (Picture courtesy V.H. Young and SM).
In 1956, the company's centenary year, the Anchor Line fleet stood at 9 ships totalling 79,329 tons, 6 being engaged in the eastern service i.e. CIRCASSIA (1937), CILICIA (1938), CALEDONIA (1948), EUCADIA (1946), EGIDIA (1945) & ELYSIA (1945). TARANTIA (1942), TAHSINIA (1946) & TYRIA (1955) on the New York route.
The CALEDONIA (17,046 GRT) above, was completed on the Clyde in 1925. She was a turbine steamer intended for the Glasgow-New York run and was converted into an armed merchant cruiser in 1939 and renamed SCOTSTOUN. She was finally torpedoed and sunk by U-boat in the Atlantic on June 13th. 1940.
A fine colour view of CILICIA leaving Bombay is seen below. Built by Fairfields of Govan she was launched October 21st. 1937 and commenced her maiden voyage to Karachi and Bombay on May 14th 1938. In 1939 she was requisitioned as an armed merchant cruiser. CILICIA once appeared on a Tristan de Cunha stamp as H.M.S. ATLANTIC ISLE as she had been tasked as a meteorological station on the island in 1943. Following the war she was released back to Anchor Line for peace time service having transported 16,035 troops and prisoners of war.
Following a long and successful career on her regular route between Glasgow/Liverpool to Karachi/Bombay she was sold in November of 1965 and based in Parkhaven, Holland in tow of Smit's ZWARTE ZEE for breaking up in Bilbao. She was renamed CILICIA for her final voyage.
Courtesy Laurence Dunn Collection - SM JUNE/87
The CILICIA in her very drab and depressing war time guise as an armed merchant cruiser in WWII.
The three Anchor Line 'sister' ships included CILICIA, CIRCASSIA and CALEDONIA. Tonnages were all a little over 11,000. The three were built in 1938, 1937 & 1948 resp. and were all twin screw, oil-fired of the 2X8 cyclinder Fairfield-Doxford opposed piston type with standard speed of 16.5 knots. They were designed for 300 First Class and 80 steerage passengers. These three magnificent vessels proved to be serious competition for P & O on the U.K./India run. Accommodation and catering services were exceptional.
The CILICIA, above, has the assistance of a Clyde tug upon leaving Yorkhill Quay in 1954 commencing yet another trip to Bombay and Karachi via Birkenhead and Suez. Appreciation to Iain Hill /ZL2ZLW of New Zealand. Iain also served as Radio Officer aboard the infamous Captain Cook of Donaldson Line.
The CALEDONIA (above) 11,252 tons was practically identical in form to her sister ship CIRCASSIA with the exception that the steam pipe abaft the funnel reaches the top of the funnel, whereas her sister's stopped mid-way. She was launched by the Marchioness of Linlithgow on March 12th. 1947 and delivered March 23rd, 1948 for the Bombay service. In 1965 she arrived in Amsterdam for use as a floating hostel for students of Amsterdam University. This fine ship was finally towed to Hamburd in March 1970 and broken up by Ritshers.
The M.V. EGIDIA (above) of 9,952 grt was built by Lithgow's of Port Glasgow in 1945. Following WW2 there were no plans to build bigger and better ships for the Atlantic service. Two cargo-passenger and a cargo vessel were, however, in the process of being built. The first two were delivered and went into service in 1945, the EGIDIA in June and the ELYSIA in November. EGIDIA made her maiden voyage to Calcutta and other eastern ports for the Joint India, Ceylon and Burma Conference which operated under the Ministry of Transport. The third of the same class and practically identical ship was the EUCADIA which ultimately joined EGIDIA and ELYSIA on the Atlantic service.
These three ships had accommodation for 12 pasasengers in single cabins and eventually finished their careers carrying general cargo between Glasgow, Liverpool, Milford Haven, Avonmouth, Marseilles, Aden, Vereval, Porbander, Bedi Bhunda, Karachi and Bombay.
Courtesy Laurence Dunn Collection - SM JUNE/87
More contribution by this great company to the war effort. EGIDIA, a relatively new ship at the time, poses dressed for convoy duty with carley floats and gun emplacements visible.
The ANCHORIA (II), above, of 5,430 grt was built by Alex Stephen & Sons of Glasgow in 1911. She was powered by a single screw with triple expansion 3 cylinder 4300 BHP engine giving her an average speed of 12 knots. She entered service on September 7th. 1911. On August 22nd 1912 she was sold to T & J Brocklebank bearing the same name. On March 18th. 1918 she was torpedoed off Northern Ireland but did reach port safely. In 1935 ANCHORIA was sold and broken up in Osaka.
The CAMERONIA (I) above was of 10,963 grt and built in 1911 by D.W. Henderson. She had twin screws coupled to a triple expansion 15,600 BHP power plant and was capable of speeds in excess of 19 knots. Her maiden voyage was from Glasgow to New York on September 13th. of that year. In 1915 she was employed in the Cunard-Anchor joint service to New York. On April 15th. she was torpedoed in calm seas by U-33 and sank in 40 minutes. CAMERONIA (I) was carrying 2650 troops from Marseilles to Alexandria. 129 troops and 11 crew members were lost.
"TAHSINIA" - Author's File
The TAHSINIA of 5,680 grt was built at Lithgows Ltd. of Port Glasgow in 1946. She was a single screw ship, oil-fired 2 stroke single acting type power plant generating 3300 BHP with an average speed of 12 knots.
On May 16th of that year she entered service on the Indian run. She was transferred to the Atlantic in 1956 along with the other 'T" class ships of the Company but was found to be too slow when compared to the post war competition. In 1959 she was sold to the Atlantic Shipping Company and renamed CARACUS registered in Monrovia. In 1963 she was renamed AGIOS THERAPON of the San Therapon Co. of Piraeus. Another name change in 1969 to become the PARALOS took her to the Far East where she was sold for 40,000 pounds for scrapping in Shanghai.
The TYRIA was of 5,869 grt and built by Wm. Doxford & Sons of Sunderland in 1955. She was powered by a 4 cylinder Doxford opposed piston 2 stroke single acting engine generating 3300 BHP giving her an average speed of 12 knots, single screw, oil fired.
On June 25th. 1955 she entered the Indian service but was transferred to the Atlantic in 1956. On October 15th. 1959 she was sold to the Nigerian National Line and renamed KING JAJA, managed initially by Elder Dempster and Palm Line Ltd. In 1976 she was sold to Ingram Navigation Co's Primula Shipping Co. of Limassol and renamed ESPEROS. May 9th. 1976 she was sold at Shahjah for scrapping at Gadania Beach.
Other "T" class ships of the line were the TAHSINIA and TARANTIA.
Below an aerial view of Yorkhill Quay taken in the late thirties showing the CAMERONIA (II) and CALIFORNIA (III).
TRANSYLVANIA (II) was launched on September 2nd. 1925 and made her maiden voyage to New York on September 12th. On September 7th of 1939 she was requisitioned for use as an armed merchant cruiser attached to the 10th cruiser squadron. During August 10th. 1940 she was torpedoed by U56 west of Inishtrahull (55.50N:08.03W), taken in tow but sank with the loss of 48 lives.
The picture above provides an evocative view of the River Clyde and, specifically, Yorkhill Quay on a typically murky smoggy day as the TRANSYLVANIA (II) arrives from New York on December 10th. 1934
__________________________________.
Neil Cowan recalls a round voyage from the UK to India which he made in the cargo liner "EGIDIA" in 1959.
"The 'EGIDIA"/GJZK was one of nine ships in the Anchor Line fleet when I joined her in Liverpool in May of 1959. The 'EUCADIA", "ELYSIA", "CALEDONIA", "CILICIA", "CIRCASSIA" and the three "T" class ships - "TARANTIA", "TAHSINIA" and 'TYRIA" made up the rest of the fleet.

The "C" and "E" class ships maintained passenger/cargo liner services to the Near East, Middle East, India and Pakistan while the "T" class ships provided a cargo only service from the Clyde to the U.S. eastern seaboard.

I joined the "EGIDIA" as a first trip cadet, one of the ship's four cadets, each at the various stages of a four-year apprenticeship then served. We were berthed in two berth cabins on the boat deck at the after end of the deck officer's accommodation. The cabins were small, each equivalent to a single cabin, but there was a wash hand basin and a settee, a locker for each occupant, four drawers and, of course, bunks, one above the other.

The one concession to the idea that cadets were supposed to be studying to become future officers was the single desk in each cadet cabin. The fact that each cabin was for two cadets and that only one desk was provided seemed to have escaped the owner's notice! Nonetheless, the standard of accommodation was adequate and probably above average for the era - I certainly knew worse in later years and with different companies.

The vessel had commenced loading her outward cargo before I joined, having already part-loaded in Glasgow. The deck 'crowd' had all been signed from the Glasgow "pool", the majority of them having sailed many times with Anchor Line ships on the Indian run or on the North Atlantic. Both the bosun and the carpenter were company contract petty officers, as was the lamptrimmer. This was not only the first, but also the last, time that I sailed on a ship that actually carried a lamptrimmer as part of the official compliment. His main objective in life appeared to be to jealously guard the fo'c'sle paint locker as if he had personally purchased all the paint therein !

The engineer officers were Clydeside to a man as was the engine room crowd, of whom only the donkeyman was a "Company Man", having signed a company service contract with Anchor Line.
Four deck officers were carried in addition to the master. The chief officer, second mate and third mate were all Scots whilst the fourth mate was English and one of the last refugees from national service that I came across in my time at sea. He had opted to serve for a certain number of years in the Merchant Navy ( I believe it was a minimum of five) rather than do his two years "square bashing" in the armed services.

I've often wondered since if, despite his frequently stated desire to go ashore at the first opportunity, he actually made a career at sea. Even as fourth mate, he had a second mate's ticket which would have been wasted effort if he had gone ashore exactly on the expiry of the required national service avoidance time.,
Captain William MacVicar. MBE, was "EGIDIA"' master, veteran of many wartime convoys and torpedoings and adventurings and brother of Angus, the well-known Scots author and broadcaster. Captain MacVicar was third mate in Anchor Line's "BRITANNIA" during WW2 when she was sunk by a German raider somewhere off Africa. He was in command of one of the ship's boats, which, even after twentyfive days at sea, managed to bring thirtynine survivors to safety. He was a captain well respected by officers and crew and popular with the few passengers that we carried during the time I was on the ship. As far as we cadets were concerned, he was the only captain I ever knew to take a visible interest in our progress.
Every day that the ship was at sea the four cadets mustered in the master's dayroom for half an hour of International Code flag recognition and visual morse practice. Woe betide any cadet who consistently failed the flag test !

Captain MacVicar also took a close interest in each cadet's annual Merchant Navy Training Board exam which, for me, fell due during my time on "EGIDIA". While this posed few problems for me, fresh as I was from nautical college with 6 months seniority, the other cadets had all joined the Merchant Navy straight from school and dreaded each exam as it fell due for them. Most companies in those days, certainly Anchor Line, took a dim view of their cadets failing Training Board exams and often took sanctions against those who did, one of the favourite ones being"demotion" to a lesser class of ship.

Shortly after I joined, the ship made a "cold' move from Liverpool to Birkenhead where loading continued for the outward voyage and a handful of passengers joined, together with the mails. From Birkenhead we eventually sailed coastwise to Swansea where our UK loading of cargo was completed.

The liner service provided by Anchor Line's "E" class vessels at that time began with a call at Marseilles to both load and discharge. Following this brief call, the eastward voyage continued with a short break at Port Said to load stores, then transit the Suez Canal.

Our southbound convoy was halted in the canal cut to allow the northbound convoy uninterrupted passage on this occasion and I remember seeing the RMS "CILICIA", as part of that convoy, moving sedately over what appeared to be a sea of sand, because of intervening desert and dunes, no water could be seen from my viewpoint.
Our convoy moved on south in due course and we entered the Red Sea, full and away for Aden. Then, and in later years, I never ceased to be amazed that, within a few hours of leaving Tewfiq astern, "EGIDIA" appeared to be alone within the visible horizon. Only at the southern end of the Red Sea did other ships begin to appear, all converging on the run-in to Aden.

The ship moored to head and stern buoys at Aden during darkness hours and began taking on bunkers. I turned-to at 0800 the next day and was astonished at the landscape that daylight revealed. The barren rocks of Aden, indeed !

There was nothing green to be seen anywhere (other than the green part of the BP logo!) Bare rock rose from the water's edge to the jagged mountains close beyond and formed a huge semi-circular barrier all the way around, virtually, from Little Aden to Aden itself. The buildings of the town and the tall block of the Crescent Hotel stood out starkly against this incredible backdrop of desolate moonscape.

If nothing else, Aden was, however, the great ocean crossroads of the maritime world at that time and ships of all types and flags provided a constantly changing picture for the discerning ship lover. Here could be seen the great ships of Orient Line, Bibby Line, British India, Blue Funnel, Blue Star, Shaw savill, Federal Steamship, Maersk, Chandris and many, many others including tramps of Hogarth, Lyle, Reardon Smith and Bank Line.

Ships trading to the Gulf, Pakistan, India, the Far East, Australia and New Zealand all stopped at Aden at one time or another although, for the majority, a stay of six to eight hours to allow for bunkering was the extent of the visit and shore leave was rare. The British pilots at Aden were busy men in those days !

Leaving Aden behind, we began the ocean transit phase of the voyage bound for Bombay, arriving just as that year's monsoon broke.
Our passengers had disembaked upon arrival and, almost as quickly, we discharged mail from the secure lockers in the upper 'tween decks, the Royal Mail pennant proudly flying from the yardarm as we did so.

Two weeks later, the bulk of our cargo had been discharged and we made the short voyage north to Bedi, lying off-shore to work surf boats prior to sailing on to Karachi where we off-loaded the last of our outward cargo and began loading for home.

There was civil unrest in Pakistan at this time and armed military guards were posted by the authorities at the foot of the gangway. From our berth alongside we could see military vehicles in the streets and soldiers constantly patrolled around the dock perimeter fence.

Needless to say, shore leave was banned for the entire ship's company.

From Karachi, the ship sailed directly back to Bombay where we completed loading and were homeward bound within a week, embarking a handful of passengers just prior to departure.

The homeward voyage saw us retrace our track to Aden from where we set course for the Red Sea and Port Sudan.

Two Ben Line ships and an Ellerman City liner were already docked when we arrived so that, with ourselves alongside as well, the "Scottish Merchant Navy" had a full representation in this remote East African port.

In Port Sudan, the ship's own gear was used to load from barges alongside whilst dockside cranes loaded cargo from shoreside. The labour force was made up of entirely "Fuzzie-wuzzies", so called because of their elaborate hair styles which were kept in place, so rumour had it, by plastered on dung !

The smell from the collective labour force in the scorching heat of the mid-day sun seemed to confirm the truth of this rumour !

No-one was sorry to leave the heat and smell of the Sudan behind as we set course for Suez, transitting the canal uneventfully and entering the Meditteranean in due course on the last part of the homeward voyage.

There was no call at Marseilles homeward bound, the final leg being an uninterrupted run from Port Said to Liverpool, the welcome sight of the Port Lynas light heralding the end of my first Anchor Line voyage.

Three months to the day, virtually, from leaving the Mersey outward bound for India, "EGIDIA" was back alongside Liverpool Docks with her crew paid off and raring to get 'up the line' to Glasgow."
THE GUEST BOOK MAY BE FOUND AT THE FOOT OF THE "INTRODUCTION" PAGE.
PLEASE SCROLL TO THE TOP FOR ANOTHER SELECTION